May 27th
Riverside
Deputy Philip Borja, 25, of Upland, died at Riverside Community Hospital after the collision, which involved two motorcycles and two cars, according to the Corona Police Department. A 24-year-old man was released from the medical center after being treated for his injuries.
The crash happened shortly before 4:30 p.m. as the two motorcyclists were heading eastbound on Hidden Valley Parkway, just east of the 15 Freeway, police said in a news release.
A 57-year-old woman, driving a white Ford Fusion, exited a Stater Brothers parking lot and turned left onto the street. The car "entered into the path of travel of the two motorcycles" and was struck on the driver's side by Borja, the statement said. The other rider avoided the Fusion by swerving into oncoming lanes.
Both cycles struck a Volkswagen Beetle, driven by a 22-year-old woman, traveling westbound on Hidden Valley, according to investigators. Both Borja's motorcycle and the Beetle then erupted in flames. Neither of the two drivers was injured.
As of Saturday morning, no arrests had been made nor any citations issued in connection with the incident.
Anyone with information about the collision was asked to contact Traffic Investigator Clark Eveland by phone at 951-817-5764 or email at clark.eveland@discovercorona.com.
May 28th
A motorcycle was fleeing from the California Highway Patrol and crashed in Hillcrest this morning, officials and witnesses said.
CHP officials say an officer tried to stop a motorcycle traveling at a high-rate of speed along southbound SR-163 near Friars Road at 8:26 a.m.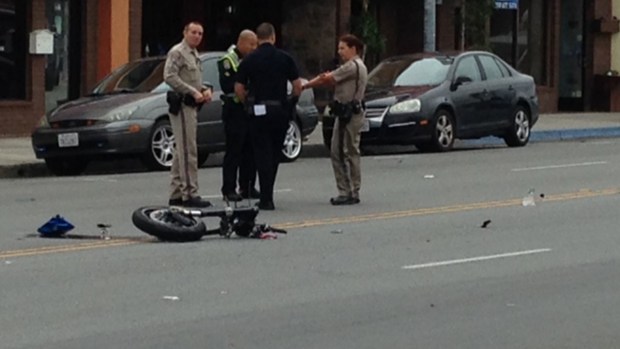 The motorcycle failed to stop and exited the freeway at University Avenue.
Witnesses said when the motorcycle hit a dip in the road at 6th and Robinson it crashed.
CHP officers said the rider crashed into a parked car. Debris was strewn along 6th Avenue between University and Robinson. The stretch of road was closed to traffic.
A silver car was parked near a curb and appeared to have half of the motorcycle wedged underneath its front bumper. One person was transported to Scripps Mercy according to CHP officials.
Source: NBC News San Diego
May 29th
San Bernardino
San Bernardino- SR-138  on Sunday at 1:50 PM
A 26 year old man was riding his motorcycle southbound state route 138, about 5 miles east of the I-15, when he skidded into oncoming traffic hitting a SUV hauling a boat Sunday afternoon.
Paramedics pronounced the biker dead due to fatal head injuries, he was wearing a helmet. The bikers name has been released,
Joshua Ryan Persons from Huntington Beach.
There is no further information given at this time.
Huntington Beach
Sunday, May 29. 1:30 PM
A 72 year old man was pronounce dead at the scene, when police arrived first responders where giving CPR for about half hour. 2011 BMW crossed into the westbound lane and hit head on with a Jeep containing two women ages 52 and 53 from walnut and the other covina. Both have been transported to Huntington Memorial Hospital with moderate injuries. No more further information available.
May 30th
Los Angeles
A motorcyclist and his passenger were killed early Monday morning in a single-vehicle crash in South Los Angeles. The motorcyclist was identified as the Whittier resident Edgar Inda, 29, according to Investigator Selena Barros of the coroner's office.
The crash happened just after midnight on Washington Boulevard east of Santa Fe Avenue, said Officer S. Hui of the Los Angeles Police Department's Central Traffic Division.
Inda was driving the motorcycle eastbound on Washington Boulevard past Santa Fe Avenue when he lost control at a curve and struck the center divider. "He was probably speeding," Hui said. Both Inda and his passenger were ejected and neither were wearing a helmet.
Inda was pronounced dead at the scene and the woman was taken to a hospital where she was pronounced dead.
We send our deepest condolences to the families and friends that were involved and affected by these motorcycle crashes. We wish and hope that those that are still with us may make quick recoveries and encourage all motorcyclists to continue to ride safely. The Reinecke Law Firm is a huge supporter of the motorcycle community and has been for the last 30 years. If you or a loved one were involved in a motorcycle accident we encourage you to seek medical help and then call to call The Reinecke Law Firm at (800)275-8326 for a free case evaluation. You may be entitled to compensation for your injuries, damaged property, loss income, and more. We Ride, We Fight, We Win.